We have constructed this study based on measurements carried out in the second half of 2021 and from a panel of 30 major players in the retail banking sector:
Traditional banks: Banque Migros, Crédit Suisse, Next Bank, Neue Aargauer Bank, PostFinance, Raiffeisen, Valiant, UBS
Cantonal banks: Aargau, Basel, Berne, Fribourg, Genève, Grisons, Luzern, Schwyz, St Gallen, Thurgauer, Valais, Vaud, Zürich
Digital banks and neo-banks: Cler, N26, Neon, Revolut, Swissquote, Yuh, FlowBank, Fea Money, Yapeal
For the 4th consecutive year, Colombus Consulting has published a study on the digitalization of the retail banking sector. The year 2020 was strongly influenced by emotions surrounding the beginning of the Covid-19 crisis, and we were also able to show that the retail banking sector's growth had strongly slowed down in terms of digitalization.
Our first observation is that the Internet has regained its growth momentum. After a half-hearted year in 2020, the number of visitors is once again growing significantly, with more and more features available to customers. Nevertheless, the engagement and performance of websites are declining slightly.
The second observation is that newcomers continue to dominate the mobile market. Revolut remains the undisputed leader, investing more than its competitors. But the universal banks are coming back with a vengeance, narrowing the gap.
The third observation is that digital media budgets are increasing rapidly. Big banks are investing massively in paid media, and social media is growing the most. Earned media is becoming a key element to moving up in the rankings.
The final observation is that social networks are continuing to grow significantly, with Instagram becoming the leader in engagement. Big banks have now embraced Instagram, where engagement is at its highest. Tik Tok seems to be the next step, with a few trials in progress.
Therefore, we can observe that 2021 will bring about a return to sustained growth in the digitalization of client experience on almost all fronts: on the web, mobile Apps, social networks, digital media budget, etc. We can also note that traditional actors are regaining ground compared to neo-banks. Despite the crisis, many new Swiss companies have emerged (Yuh, FlowBank, Fea Money, Yapeal…), showing the dynamics of the market. The next few years should tell us if the Swiss market is big enough to accommodate so many new businesses. At the other end of the spectrum, medium-sized universal banks (cantonal banks in particular) have good practices in place (mobile Apps, social networks) and are demonstrating their ability to offer services and an overall experience for a less digitally native clientele.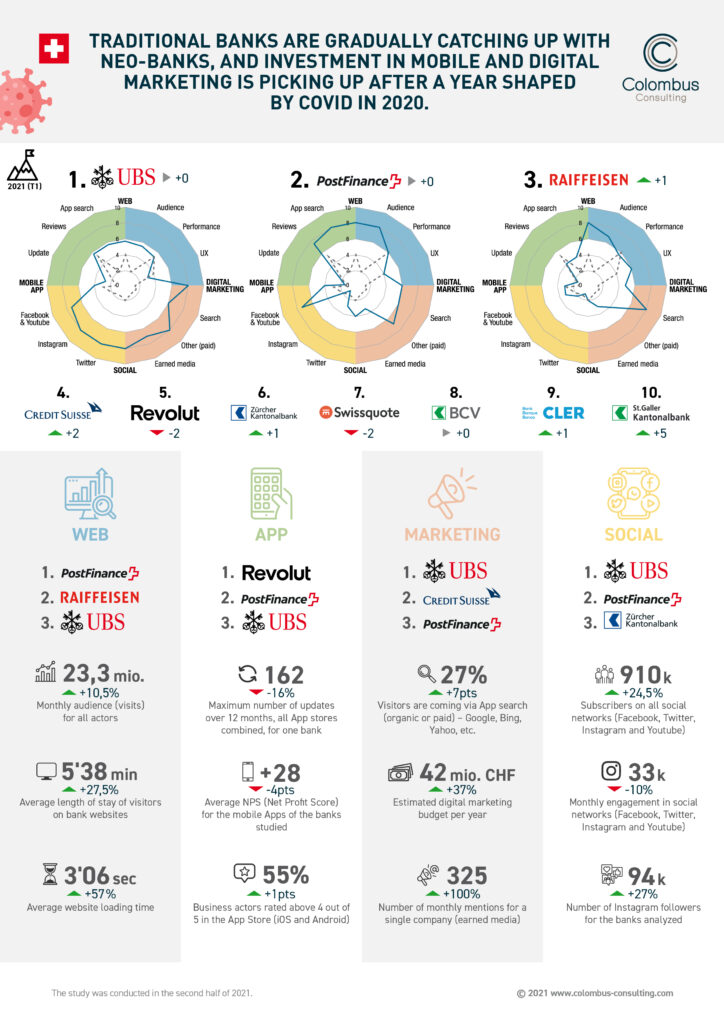 Fill in this form to download our study