What would be the impacts of electric mobility for traditional petrol stations in Switzerland? How do these stations need to transform their businesses to face this huge transformation?
Colombus Consulting releases the Swiss version of its study on electric mobility and its impact on the future of petrol stations. We suggest 3 scenarios for the evolution of the car fleet, up to 2050, according to the development of carbon-free mobility (mainly electric).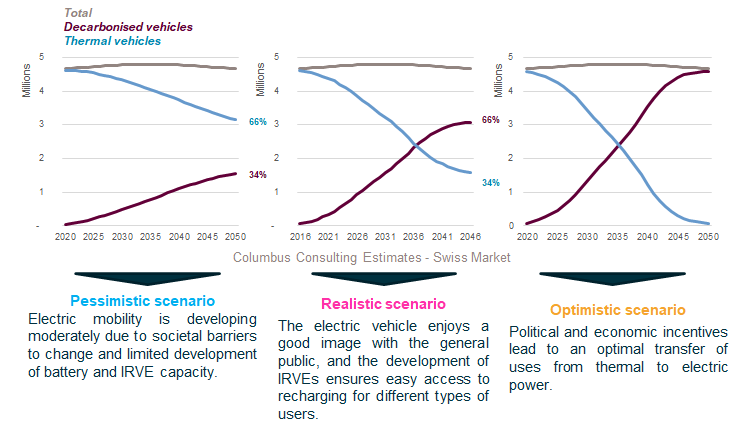 Based on these 3 scenarios, our energy experts estimate that within 15 years :
Fuel consumption in Switzerland would fall by around a third,
Profits from the sale of fuel will be halved, with unmanned petrol stations that will no longer be profitable due to insufficient volume.
The number of visits to fill up at stations with shops could be halved (48%).
Service stations must therefore transform themselves in order to survive. State of play and perspectives to be followed in this study.
Decarbonation leads to a significant reduction in fuel consumption.
Transport is responsible for approximately one-third of Switzerland's CO2 emissions. In order to accelerate the decarbonisation of this sector, regulations are being tightened with regard to internal combustion vehicles: limitation of CO2 emissions from new vehicles, establishment of low-emission zones (e.g. Canton of Geneva), etc.

In Europe, other countries are going even further by setting targets for stopping sales of new 100% thermal vehicles (2025 in Norway, 2040 in France, etc.). The automobile fleet will thus be transformed over the next few decades, and a significant drop in fossil fuel sales can be expected.
Petrol stations will have to be transformed
According to our study and our estimation, the evolution of mobility towards carbon-free mobility will have important repercussions on the sector: petrol stations without shops could see their profits decrease by 62% as early as 2030, and reach a negative return by 2050.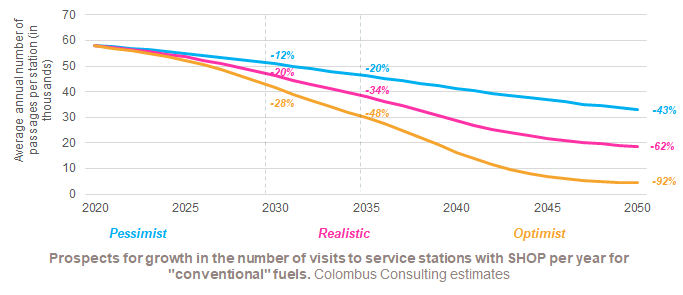 "Unlike highway petrol stations, they are not essential to the development of electric mobility and compete with shop-filling stations, with recharging at home, at the workplace or at the terminals that are developing on the roads. Their number should therefore continue to decrease in the coming years," explains François Hémono, senior energy consultant for Colombus Consulting.
Rural petrol stations, the first to be impacted by decarbonisation
Some petrol stations in rural areas are already in financial difficulty due to the low volumes of fuel sold. However, this local service is essential for the mobility of the inhabitants, who are often dependent on their vehicles. In this context, the quality of service could deteriorate in the most isolated areas.
The service offers by petrol station in urban and peri-urban areas would be reinvented.
The reduction in demand for fuel is expected to lead to a reduction in the number of visits to petrol stations with shops of up to -48% by 2035.
The emergence of low-emission zones in some cities, coupled with a drop in the number of passages to fill up with fuel will force petrol stations to find new levers to attract and retain their customers: distribution of decarbonated energy sources, adaptation to populations with a regular need for recharging (taxis, company vehicles), involvement in other forms of mobility (car-sharing stations, electric bicycle hubs, etc.).
"Services linked to electric mobility are becoming levers and more and more retailers are equipping themselves with recharging stations to build customer loyalty and attract new consumers," says Gaël Gautier, senior energy consultant for Colombus Consulting.
Highway petrol stations facing the challenge to respond to long-distance electric mobility
The installation of electric recharging stations and the diversification of services will be essential to maintain the profitability of haighway petrol stations.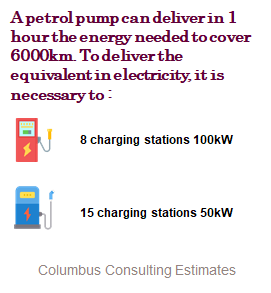 The need will be greater than the need for petrol pumps, and must be able to absorb the flow of travellers, especially when leaving on holiday. To achieve this, different recharging methods can be considered:
• quick recharging (~15 min) at a higher cost, for the most rushed users,
• a slower refill (~60 min), at a reduced cost, which could be used as a calling product for on-site services and shops.
Charging stations modify the energy supply network.
The diversification of energy recharging sites will lead to a change in traditional refuelling sites. Recharging electric vehicles takes 6 times longer (on a 50 kW terminal), so each kilometre recovered by the user can be a waiting time saved. This need therefore encourages the development of opportunity recharging: recharging locations will evolve and become decentralised in order to invest in priority in longer-term parking spaces (living and leisure areas, tourist areas, etc.).
In Europe, several initiatives are encouraging the development of an emergency recharging network:
In Amsterdam, residents can request the installation of a charging point near their home.
Since 2018, Norway has required one charging station every 50 km on motorways.
In France, a right to plug has been introduced to encourage the installation of charging stations in co-ownerships.
Germany imposes a charging station at every petrol station.
"According to our estimates, the territory should tend towards decentralisation and a better distribution of recharge networks. Experiments on new recharging modes are also under way: recharging trailers, induction recharging, etc.". ", concludes Jean Meneveau, associate director at Colombus Consulting.
*Petrol stations with shops now account for one third of all petrol stations in Switzerland and two thirds of the country's fuel sales.
Fill in this form to download our study