Colombus publishes its 6th study on the digitalization of the customer experience in Swiss retail banking:
Digital investments reach 48 million Swiss francs annually by 2023
Banks develop new customer relationship services with generative AI
Responsible digital implementation lags in a sector where technology accounts for almost 40% of carbon emissions.
Major banks retain podium position in 2023
The 2023 podium remains stable with UBS, PostFinance and Raiffeisen. Revolut, in 4th place, continues its progress at the expense of Crédit Suisse, which logically falls back. Last but not least, the neo-bank Yuh, which made a big impression last year with its successful launch, slips back in the rankings.
Retail banks have yet to achieve the digital service excellence of neo-banks
"The major retail banks have invested heavily in new digital functions, while maintaining a hybrid approach with relational services and advisors who remain at the center of customer relations. But the neo-banks are keeping one step ahead with the excellence of their digital services", analyzes Jean Meneveau, Associate Director of Colombus Consulting Switzerland.
Neo-banks maintain their lead in mobile applications that appeal to young people
Banks are making a special effort to appeal to the under-18s, by revamping their offers and dedicated apps, enabling them to spend, save, grow their pocket money, sponsor or even send money to friends. While Revolut has a particularly comprehensive offering, traditional banks are also active, with new products from Credit Suisse (Digipigi Kids), GKB (GKB Gioia Sackgeld), and SGKB (MiniBank).
Generative AI, a relay for the digitization of banking services
"The financial services sector is quite keen on generative AI, with examples of projects focused on conversational services for advisors, or direct interaction with customers. However, banks are still investing twice as much in AI in the USA as in Europe. Morgan Stanley, for example, has already deployed its chatbot solution to 16,000 advisors worldwide. Banking publishers are also looking to lead the way, notably Temenos, which now offers generative AI within its platform for its banking customers," notes Jean Meneveau.
Responsible digital design clearly underdeveloped
Digital responsibility is a new criterion in the study, with the aim of measuring the environmental performance of websites via their complexity, weight and resource optimization.
The results are clear: very few banks seem to have taken these criteria into account when managing their websites. They are still making declarations of intent, joining, for example, the Charte du Numérique Responsable (Responsible Digital Charter) by the Institut du Numérique Responsable (INR) or the Digital Trust Label by the Swiss Digital Initiative. In fact, and as measured in our study, only Swissquote has paid any particular attention to these criteria to date.
"If sustainable development becomes a strong dimension of their banking products, banks could go even further, by integrating CSR dimensions into all their activities. The poor performance of Swiss players in the field of digital responsibility clearly shows that there is still a long way to go, and we hope that the pace will pick up in the coming months," concludes Jean Meneveau.
Digital Index: the sector's overall digital performance
Below, Colombus Consulting presents the rankings of the Digital Index, which measures the digital performance of retail banks based on 50 indicators divided into four areas: Web, Mobile, Marketing and Social.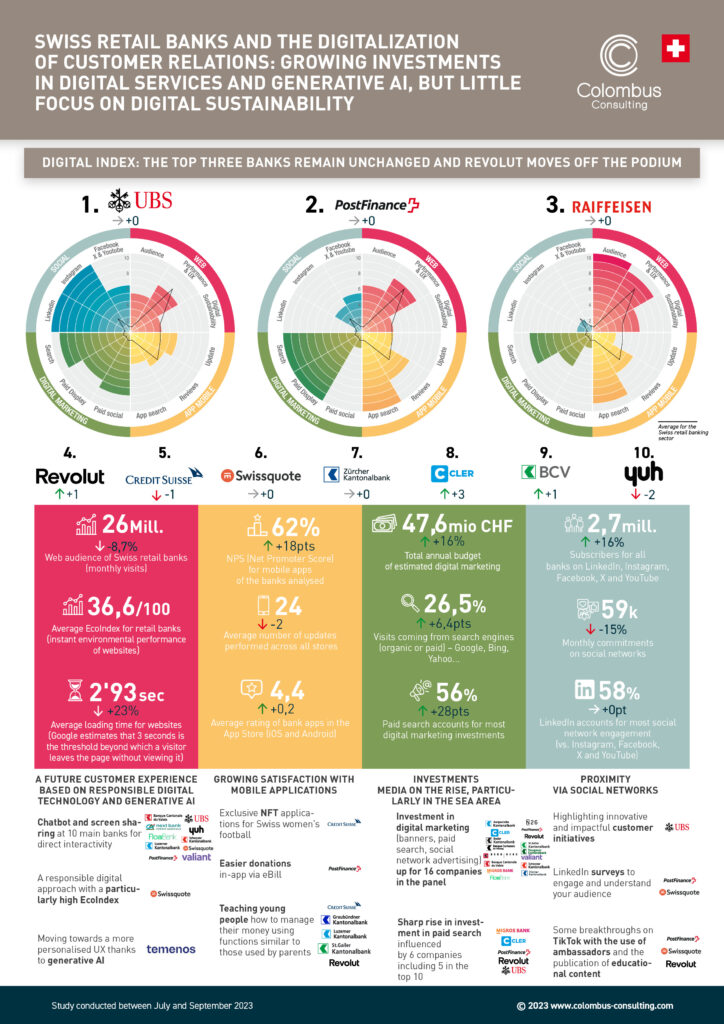 Methodology
We based this study on measurements taken between July and September 2023, on a panel of 30 major players in the retail banking sector:
Traditional banks: Banque Migros, Crédit Suisse, Crédit Agricole Next Bank, PostFinance, Raiffeisen, Valiant, UBS,
Cantonal banks: Aargau, Basel, Bern, Fribourg, Geneva, Graubünden, Lucerne, Schwyz, St. Gallen, Thurgau, Valais, Vaud, Zurich
Digital banks and neo-banks: Cler, Dukascopy, N26, Neon, Revolut, Swissquote, Yuh, FlowBank, Fea Money, Yapeal
We offer a digital index to measure the 360° digital presence and performance of players according to more than 50 indicators:
Website: audience, performance (bounce, visit time, loading time, core web vitals), customer experience (design, content and functions) and digital responsibility (EcoIndex)
Mobile apps: updates, comments and ratings, NPS (Net Promoter Score), referencing in stores
Digital marketing: SEO, display, email, social networks and partners
Social networks: Instagram, LinkedIn, Facebook, Youtube, X (ex-Twitter)
Solutions used
We used various market data collection tools, and reworked all the data in the form of an index for a simple, visual benchmark of the sector. The chosen solutions are : Decodeapps, Similar Web, Semrush, Built with, Google, Page Speed Insights, EcoIndex.
Fill in this form to download our study.