Colombus Consulting has performed its 3rd digital study for insurance companies in Switzerland on the basis of measurements taken in the first half of 2020 and on a panel of nearly 20 insurers such as: Allianz, Assura, Axa, Bâloise, Concordia, CSS, Elvia, Generali, Groupe Mutuel, Helsana, Helvetia, La Moblière, Sanitas, Swica, Swiss Life, TCS, Vaudoise, Visana and Zurich.
We offer a digital index to measure the 360° digital performance of operators according to 30 indicators:
– Website: audience, performance (bounce rate, visit time and load time), Customer experience (design, content and functions)
– Mobile apps: updates, comments and ratings, NPS (Net Promoter Score), in-store Search (ASO)
– Digital marketing: SEO, display, email, social networks, partners and earned media
– Social networks: Facebook, Youtube, Twitter, Instagram
Solutions used :
We used various market tools and reworked all the data as an index providing a simple and visual benchmark of the sector. The chosen solutions are : Talkwalker, Decodeapps, Alexa, Similar Web, Semrush, Disconnect.me.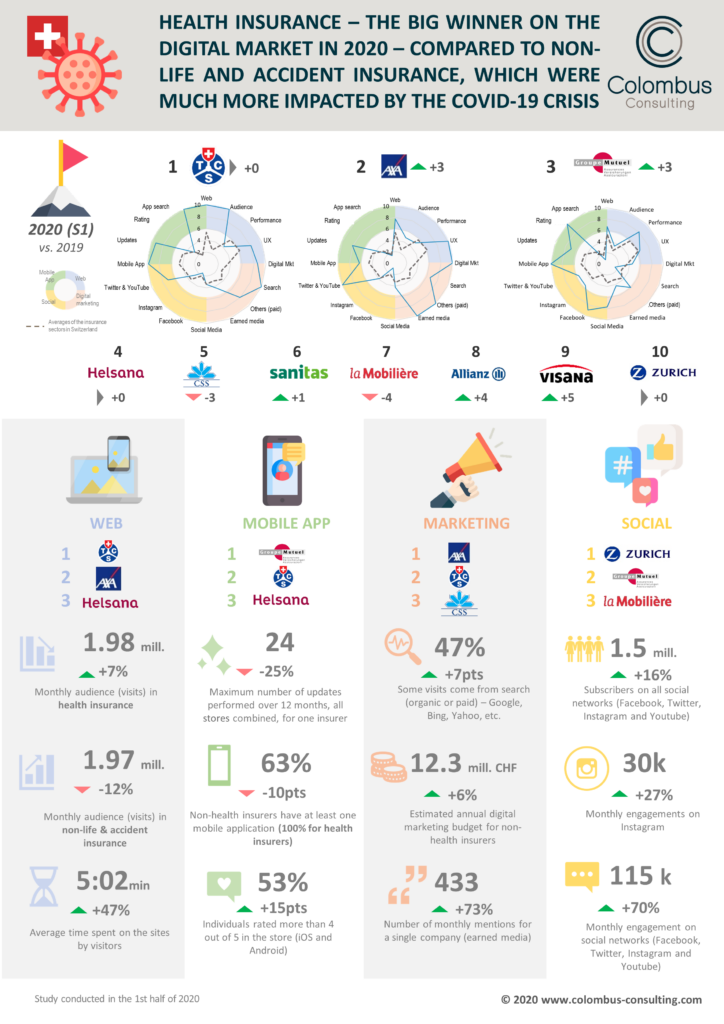 Fill in this form to download our study