Our study confirms that digital and innovation are mutually enriching, with a focus on customer relationship excellence. Private banks have proposed many new features this year, but there is still one step to be taken: putting their clients' projects at the heart of their digital strategy.
3 private banks still dominate the market, with some changes in 2022
As last year, three private banks dominated the ranking on all indicators: Julius Bär, Vontobel and Lombard Odier. Julius Bär takes the lead this year, standing out on social networks, which continue to be Vontobel's weakness. Lombard Odier rounds off the podium with a balanced profile but falls short of the two leaders.

Although the podium has not changed much, there have been significant changes in all of the dimensions studied. Some private banks are gradually adopting the same standards of retail banking, like financial services and wealth tech: web services, trading, crypto, engagement on digital and social networks… And all of this from more than just their advisors.

A few figures illustrate this growth: the panel's total number of visitors reached is up by 31% and has increased to more than 500,000 monthly visits. Media investments are up by 15%, especially on social networks.
Nearly a third of private banks have not yet made the leap to using a mobile app, a tool that is nevertheless becoming the focus of innovation in the sector
Mobile apps have become real showcases for services and for enhancing customer relationships and experiences. Vontobel is strengthening its leading position in this sector with no less than 3 apps, adapted to customer groups and needs, including Volt and Vontobel Investment Scout for active investors. Seven banks in the panel offer investment advice and market analysis through their mobile app.
However, 30% of the companies on the panel have not yet developed mobile apps for their customers and seem to be maintaining a conservative approach to customer relations.
Social networks: a young and fast-growing investment
Although private banks started out tentatively on social networks with a classic approach to their content (CSR, the bank's missions, etc.), the pandemic seems to have played its role as a catalyst: LinkedIn has become a key place for targeting new, wealthy customers. It has also become the leading social network, with 72% of subscribers and 78% of engagements.
Private banks are inspired by digital banks
While Swissquote has assumed a special place in the Swiss banking landscape, private banks are also beginning to invest in certain digital services. Webinars and podcasts, which until recently were exclusive to 100% digital companies, have developed in recent months (Julius Bär, Vontobel, Lombard Odier, Piguet Galland, UBP …). Some banks in turn are launching themselves into new asset classes, including crypto-currencies (BBVA Switzerland, LGT Bank …), with limited functionality, while ensuring the security of a private bank.

"In terms of digitalization, the upcoming launch of Alpian, which has just obtained its banking license, will be particularly scrutinized by the market," says Jean Meneveau, Associate Director of Colombus Consulting Switzerland.
Moving towards an improved advisor, ever more aware of their clients' needs
Client interactions were largely disrupted for advisors during the pandemic. Private banks have therefore invested more in the digitalization of customer relations and have begun to integrate this aspect into their in-depth knowledge of their customers. Some private banks are starting to work on understanding the behaviors, needs, and desires of their customers through data. Digital marketing is therefore a new tool in advisors' arsenals to detect needs and expectations and propose new services to their clients.
Innovation focused on banking products and less on customers' life projects
Digitalization needs to involve more innovation internally, but also externally. The best example is that of cryptos: in a few months, many institutions have made it possible for their clients to integrate their crypto wallet, with all of the services and security of a private bank. In this dynamic of product innovation, other services (robo-advisory, advanced reporting, portfolio consolidation …) have also appeared, while a more customer-centric approach still seems to be lacking.

"The key stages in the lives of private banking clients (financial planning, transmission of assets, transfer of business, etc.) are often absent from digital channels, even though they are natural entry points for (future) clients," concludes Jean Meneveau.
Digital Index: Digital global performance of the sector
We present here the global ranking from the Colombus Consulting Digital Index, measuring the 360° digital performance of private banks according to 50 indicators (web, mobile, marketing and social). The results show very different situations between the players.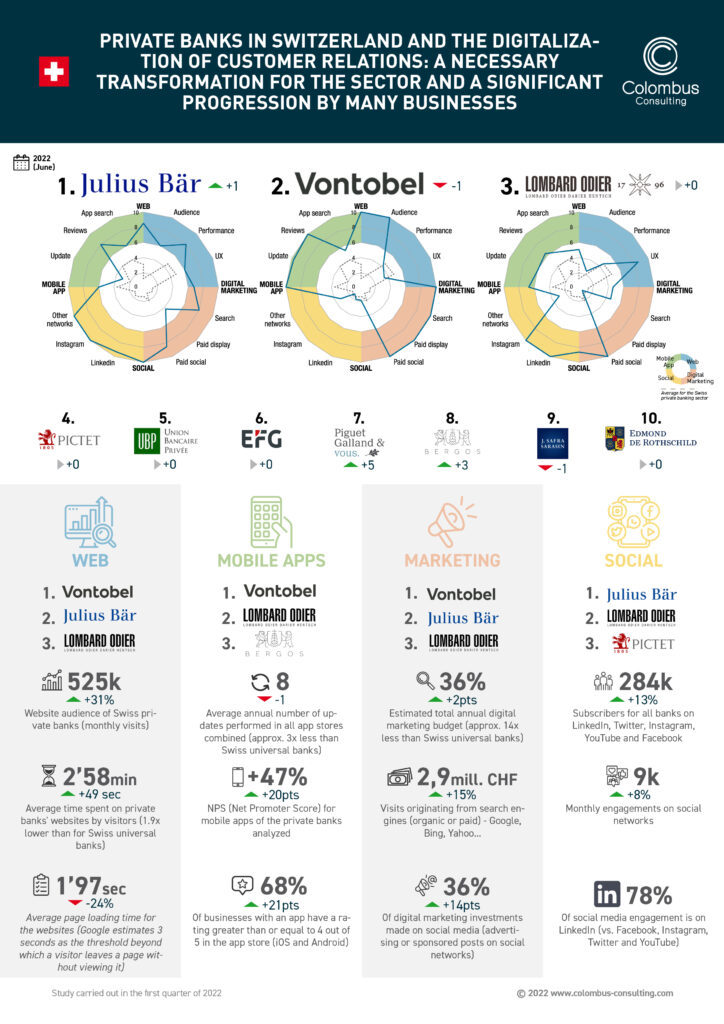 Methodology
We have built this study based on measurements taken in the first quarter of 2022 and on a panel of 27 major players in the private banking sector.
Private banks: Bonhôte, Banque Cramer, Bergos, Baumann & Cie, BNP Paribas, Bordier, CBH, Edmond de Rothschild, EFG, Gonet, Hinduja, Hyposwiss, J. Safra Sarasin, Julius Bär, Lombard Odier, Maerki Baumann & Co, Mirabaud, Oddo BHF, Piguet Galland, Pictet, Reyl, Rahn+Bodmer, Société Générale Private Banking, Syz, Banque Thaler, UBP, Vontobel
• Website : audience, performance (bounce, visit time and loading), customer experience (design, content and functions)
• Mobile Apps : updates, comments and ratings, NPS
(Net Promoter Score), Search (ASO) in the App stores
• Digital marketing : SEO, display, e-mail, social networks, partners
• Social Networks : Facebook, Youtube, Twitter, Instagram
Fill in this form to download our study