Colombus Consulting has published the 3rd edition of its study on the digitalization of Swiss private bank customer relations. Based on a panel of nearly 30 major players in the sector, the study shows that the trend towards digitalization remains positive, with many new developments again this year. On the other hand, growth is no longer the order of the day in all areas, with a decline noted in social networking. Generative AI could be a growth driver, boosting customer relations.
A new ranking in 2023, notably with the entry of Alpian
The trio of Julius Bär, Vontobel and Lombard Odier, which has dominated the ranking in recent years, has been shaken up this year. The top 5 includes : Vontobel, Julius Bär, Pictet, Lombard Odier and now Alpian, which makes a remarkable entry.
Beyond the changes in the rankings, growth is no longer systematic. A few figures illustrate the discrepancies: the panel's audience is up by some 7%, the networks are stable in terms of commitments, but down in terms of the number of subscribers. Media investment, on the other hand, is up sharply (over 60%), particularly in search engine optimization.
Beyond the rankings, the development of services continues with trading, an increase in crypto offers backed by the security of a private bank (Julius Bär in partnership with SEBA Banque, and Syz via its "Syz Crypto" offer secured by Taurus), but also increased engagement on digital and social networks (Edmond de Rothschild, Julius Bär, Syz…).
Mobile applications develop after some hesitation
Private banks are focusing their efforts on mobile applications. While Mirabaud is only just catching up in this area, other players are continuing to invest, such as Vontobel (Volt), Lombard Odier (MyLO) UBP mobile, and Alpian. Optimized screens, consolidated investment consultation, investment suggestions, push notifications of financial analysts' publications, electronic document signatures and biometric authentication are just some of the new features we've seen in recent months. Alpian sets itself apart by offering real-time chat and the possibility of scheduling an in-app video call with an advisor.
Social networks: a recent investment that's already running out of steam?
While private banks had accelerated their investment in social networks during the pandemic, the trend is now mixed, with a persistent tendency to engage their audiences on CSR and ESG themes. While budgets on social networks are still growing (+17%), engagement is no longer increasing, and the number of subscribers is down (-9%).
This trend is widespread, and extends beyond the private banking sector.
Alpian breaks new ground
Alpian's arrival was eagerly awaited by the market, and the new bank has moved straight into 4th place in the rankings, buoyed by substantial media budgets, a well-positioned mobile application, and a polished customer experience on its website and through its content-sharing platform i-vest.ch.

"Alpian has positioned itself on a highly digital offering coupled with a human-oriented service. The choice of digitally-enhanced advisors rather than robo-advisors could be a real differentiator," analyzes Jean Meneveau, Associate Director of Colombus Consulting Switzerland.
Towards an augmented advisor, ever more attuned to customer needs
By working on understanding customer behavior, needs and desires through data, digital becomes an ally in better identifying customer expectations through their interactions. In some private banks, digital marketing has become a new tool in the advisors' arsenal, enabling them to detect needs and expectations and propose new services to their customers.
Innovation very much focused on banking products, while WealthTech investments are declining
Private banks are still communicating strongly about their new financial products (crypto wallet, robo-advisory, portfolio consolidation …). These innovations have often benefited from the development of WealthTech, making it possible to provide more digital services also using the possibilities of artificial intelligence.

"After a record 2021, recent months have been marked by a significant drop in investment in FinTech and WealthTech. This particular period, between the appetite of private banks to differentiate themselves on digital, and the consolidation of the WealtTech sector, represents an undoubtedly unique opportunity for banks to integrate sector players into their ecosystem," adds Jean Meneveau, Associate Director of Colombus Consulting Switzerland.
Can generative AI accelerate and boost customer dialogue?
Historically, private banks have made little use of artificial intelligence in customer relationship management, with hyper-personalized advice being the strength of their advisors. The use of generative AI could, however, facilitate the processing of heterogeneous and complex customer information and requests, and enable more precise responses to be prepared more quickly. The example of the giant Morgan Stanley is a good illustration of this trend: after a successful initial test of a chatbot powered by OpenAI, this solution will be deployed to all 16,000 advisors to assist them in their day-to-day activities.
"Private banking remains a conservative sector in terms of customer relationship management, but the ease of use of generative AI could convince banks to take the plunge and lighten the load on front office activities," concludes Jean Meneveau.
Digital Index: Digital global performance of the sector
We present here the global ranking from the Colombus Consulting Digital Index, measuring the 360° digital performance of private banks according to 50 indicators (web, mobile, marketing and social). The results show very different situations between the players.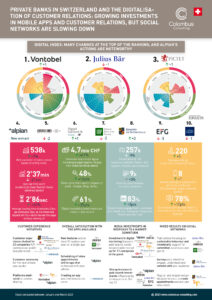 Methodology
We have built this study based on measurements taken in the first quarter of 2023 and on a panel of 28 major players in the private banking sector.
Private banks: Alpian, Bonhôte, Banque Cramer, Bergos, Baumann & Cie, BNP Paribas, Bordier, CBH, Edmond de Rothschild, EFG, Gonet, Hinduja, Hyposwiss, J. Safra Sarasin, Julius Bär, Lombard Odier, Maerki Baumann & Co, Mirabaud, Oddo BHF, Piguet Galland, Pictet, Reyl Intesa San Paolo, Rahn+Bodmer, Société Générale Private Banking, Syz, Banque Thaler, UBP, Vontobel
• Website : audience, performance (bounce, visit time and loading), customer experience (design, content and functions)
• Mobile Apps : updates, comments and ratings, NPS (Net Promoter Score), Search (ASO) in the App stores
• Digital marketing : SEO, display, e-mail, social networks, partners
• Social Networks : LinkedIn, Facebook, Youtube, Twitter, Instagram
Fill in this form to download our study