This year, we are pleased to extend our customer relationship digitalization study to the world of Swiss private banking. The aim of this study is to measure and understand how Swiss private banks are digitalizing their customer relationships from a multi-channel perspective for the Swiss on-shore market. To do so, we have conducted an in-depth analysis on four distinct dimensions: web channels, mobile Apps, digital marketing and social networks.
The first question we wanted to answer was understanding how private banks invest in the four channels we considered in this study; we wanted to see if any of them stood out clearly in their customer relationship strategies. On the other hand, we cautiously observed the differences between Swiss private banks, foreign private banks and universal banks without, however, comparing businesses that are fundamentally different in terms of their offers, services, and customer branches.
In addition, we looked at trends within Swiss and foreign wealth techs that foreshadow certain futures concerning how the world of finance could be approached, especially for new generations.
The first observation concerns the web channel and the fact that three banks stand out from the lot of banks studied, as they capture 85% of the audience of the 29 banks studied. These figures have to be put into a more general context: that of a relatively low overall audience, if we make a comparison with the universal banks (PostFinance has 14x more traffic than the cumulative panel, by way of example). Finally, private banking players seem to invest little in their websites, with few UX improvement tools and few innovative features (chatbot, advising robots, educational content), unlike universal and digital banks.
The second observation concerns mobile applications, and we find that almost 30% of the private banks surveyed do not offer a mobile App to their customers. Most mobile Apps focus on common functionalities such as portfolio consultations, access to financial publications, and secure messaging. More rarely seen are those that offer more advanced functions such as payment functions, trading functions, or even access to a robo advisor, as well as mobile functions that are rather found on digital banks, Asian private banks, or universal banks. Trading Apps even offer customizable dashboards, which provide sophisticated investors with relevant tools for effective portfolio analysis. It should be noted that universal banks also offer innovative remote advisory solutions.
The third observation concerns digital marketing, where we note that private banks attach little importance to digital media. In this context, banks tend to favor visual marketing, i.e., banners, to reinforce their brand image. This is the opposite of the universal banks and digital banks, which invest mainly in SEO to promote more specific products.
Our last observation concerns the use of social networks. This topic is weaker when compared to the universal banks: less than 90,000 subscribers for 5,000 engagements/month, which is much less than UBS alone. It is therefore a more tactical position that consists of remaining present without investing too much. It should also be noted that Twitter is more used for financial information, whereas Instagram offers more engaging and evocative content in areas such as ecology, culture, art and macro-economic information.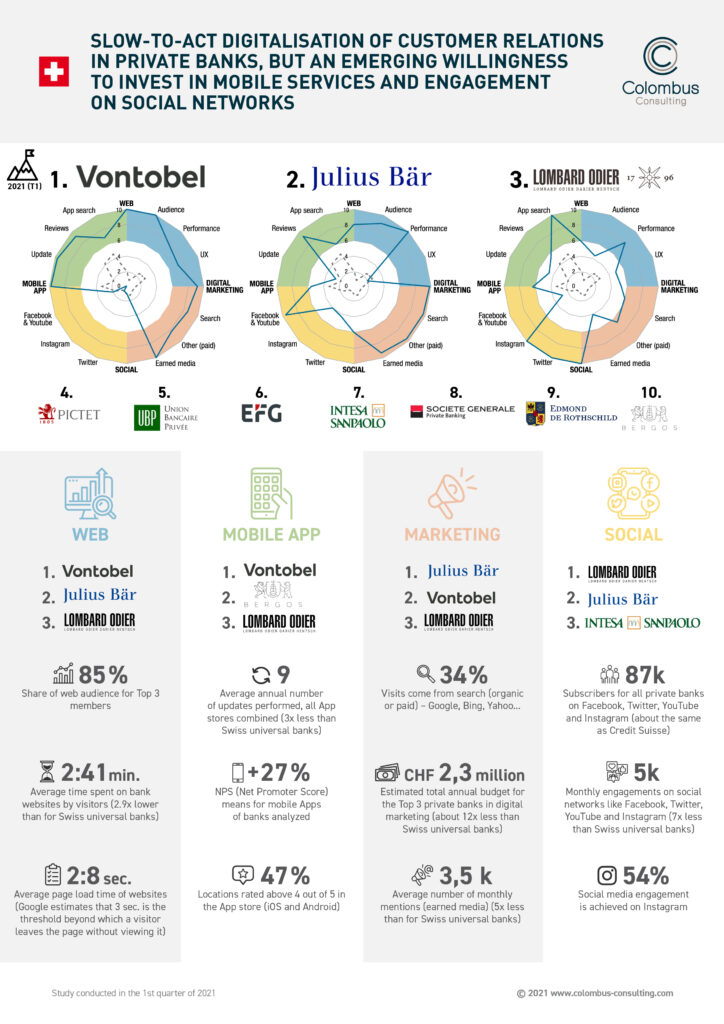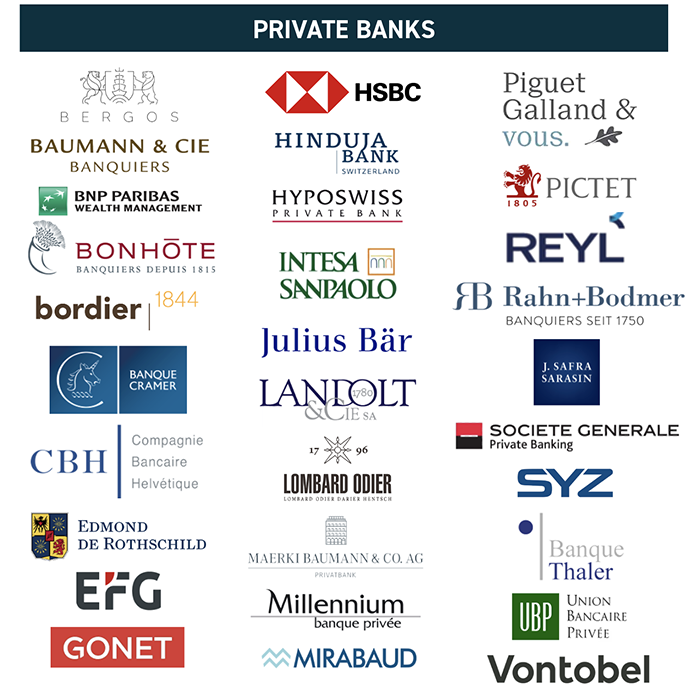 Find out our additional studies on sector digitalization
Fill in this form to download our study