Colombus Consulting, in partnership with CADSCHOOL, has analyzed the digitalization of international organizations in Switzerland and has published a study today. Based on a panel of nearly 40 international organizations active in Switzerland, the study shows a massive use of digital technology, accelerated by the Covid-19 pandemic, but also very differentiated to serve the causes and missions of each organization. There are many good practices on targeted communication towards niche communities with the rapid use of new tools (chatbot, mobile app, dedicated websites…). Nevertheless, some areas of improvement are also noted, such as increasing engagement and proximity via social networks rather than pushing a formatted and impersonal communication, or developing communities with influence marketing.
A wide range of digital adoption
The web audience is large, with more than 5 million visits per month, but the best practices and audiences are found among very different actors: organisations with a humanitarian mission (UNICEF, UNHCR, ICRC, Amnesty International, etc.), but also, surprisingly, institutional organisations (WHO, World Bank, International Labour Organisation, WIPO, etc.). "The digital initiatives are very varied, with different web and mobile applications and chatbots, but also the development of influence marketing, NFT and metaverse projects", analyses Pierre Berendes, trainer at CAD school and consultant at Colombus Consulting.
Web and mobile applications for specific communication needs
Although the majority of the actors on the panel (73%) have at least one mobile application, the objectives and target audiences are very different. The education mission is a playground for the World Bank with WBG Open Learning Campus VR, which offers interactive learning against a virtual reality backdrop, but also for the FAO and its Forest Kids application and its educational mini-games for children. Also for the general public, the WHO offers yoga courses through the WHO mYoga App, and the IOM offers resources for travelers and expatriates with MigApp. For professionals in the field, the UNICEF Academy provides a comprehensive training platform for staff to acquire skills. The International Organization for Migration (IOM) also offers assistance to people in the field via MiTA, an offline translation application.
The pandemic has also been an accelerator of digital innovation. For example, the partnership between the WHO and the WMO (World Meteorological Organisation) gave rise to climahealth.info, a website that responds to the growing demand for a causal link between health risks and climate change. With ILO Live, the International Labour Organisation's events platform, Justin Smith (Senior Digital Communication Officer) stresses "the need to provide its audience with more than just a Zoom link" since the COVID-19 pandemic. "All events are publicly accessible. We now have a hybrid approach with a digital component to each of our live events."
Chatbot: an effective tool to fight misinformation during the Covid-19 pandemic
The Covid-19 pandemic highlighted the importance of rapid and reliable dissemination of information about the disease and vaccination efforts. However, with the rise of social networking and the ease of sharing information, misinformation and conspiracy theories have also proliferated. Chatbots have been used for many purposes related to the fight against the COVID-19 pandemic. For example, the World Health Organisation (WHO) deployed a chatbot specific to the coronavirus that reached 4.2 billion people by the end of 2020. Chatbots have also been used to triage the severity of COVID-19 cases, monitor patients remotely, search for contacts, share vaccination efforts.
… but also multiple uses
Chatbots are becoming increasingly popular in international development and humanitarian efforts, with a wide range of use cases. Four broad categories of use cases have been identified:
Disseminating information through interactive sites or magazine-style formats. For example, UNICEF's "Geo" raises awareness of the impact of the climate crisis on young people's human rights. In another example, multilingual chat rooms have been developed by the International Federation of Red Cross and Red Crescent Societies (IFRC) and Traducteurs Sans Frontières (TSF) in the Democratic Republic of Congo, to provide responses to those who speak marginalized languages or have low literacy rates,
Training with a gamified learning experience. For example, the UNAIDS chatbot "Ask Marlo" which provides infographics, quizzes, and frequently asked questions on the topic of HIV; or "Topity" in Brazil (UNICEF) which combines games and conversations about self-confidence issues,
Extended support with comprehensive support services. These chatbots can provide health services such as notifications on when to take medication and appointment reminders. Examples include "Florence", the WHO's digital health agent, and "Clara", the American Red Cross blood donation chatbot that helps donors with their eligibility.
Reporting cases of violence, weather disasters, and misinformation. Users can tag locations, provide links to misinformation websites or send information about widespread rumors. For example, the Disaster Bot in Indonesia is a project supported by the International Telecommunication Union – ITU.
Prestige or image ambassadors … but influence marketing in retreat
Social networks are used massively (147 million subscribers across the panel), but communication is often too impersonal, without using the communication codes of social networks to further engage communities. Nevertheless, the most important international organizations rely on numerous ambassadors to reach a wider audience: Nazanin Boniadi with Amnesty International for the defense of women's rights in Iran, the partnership between WHO and FIFA in the context of the Football World Cup via the "Football unites the World" campaign with no less than 14 emblematic personalities including Karim Benzema, Lionel Messi, Neymar and Cristiano Ronaldo, football stars such as David Beckham, Robert Lewandowski and Cafu with UNICEF for children's rights on Universal Children's Day, and a symbolic collaboration with UNHCR with swimmer Yusra Mardini, a Syrian refugee in Germany.
Influencer marketing is a serious communication lever, especially on social networks, which gather 147 million subscribers and 4.4 million monthly engagements on Facebook, Instagram, Twitter, LinkedIn, and YouTube for the whole panel. Some publications reach records like the UNICEF post on Instagram where, in March 2022, David Beckham federated with more than 3 million views as part of an appeal for donations to help children in Ukraine.
Not all organizations use influencer marketing in the same way. While some do not use it at all, others take an alternative approach to international personalities. Olly Cann, Communications Director of Gavi, confirms this: "We have experimented with working with micro-influencers in Ghana and Kenya as part of our programs. Working with local opinion leaders when we run immunization campaigns is still new to us. Establishing a closer link with communities could increase the impact of each communication operation.
Similarly, the TikTok network is growing. 43% of organizations have an account, with some exceeding one million subscribers (WHO, UNHCR, IOM, and IFRC). However, the network's scope needs to be put into perspective, with content that is often less regular and less engaging, even in the context of collaborations with international figures.
NFT and crypto-currency: between innovation and environmental impact
While NFTs and blockchain are being blamed for their impact on climate change, various UN agencies are venturing into initiatives to promote actions, artists, and their causes or to raise funds via NFTs. Examples include the UN in 2020 with a collection of NFT art entitled Boss Beauty Role Models as part of International Women's Day, and in 2021 with a competition entitled DigitalArt4Climate, where the winners had their artworks exhibited at the climate change conference in Scotland. Another example is UNICEF's Giga initiative with a goal of connecting one million schools in 49 developing countries to the Internet, which sold 1,000 NFT tokens to raise approximately $700,000. This successful fundraising experience demonstrates the potential of blockchain-based NFTs to enable transparent, community-driven philanthropic fundraising.
Despite these initiatives, the United Nations Conference on Trade and Development (UNCTAD) recommends that countries introduce strict regulations for crypto-currencies. Indeed, the UN agency suggests that they could threaten the financial stability of developing nations, facilitate illicit financial activities and jeopardize the monetary sovereignty of countries by informally replacing national currencies.
Metaverse: some isolated initiatives to seize the new codes
International organizations have also experimented with metaverse, with a few trials, primarily to test the uses and reception of the various target communities. There are various initiatives on gamification (UNEP), awareness-raising on the Sustainable Development Goals (SDGs), but also reflections on the interoperability of metaverse (ITU). These full-scale tests will provide lessons for the evolution of the place of a metaverse in communication and the engagement of new communities with international organizations.
There are many examples of digital initiatives by international organisations. The diversity of organisations is also reflected in the practices identified, and the Covid-19 pandemic has acted as a catalyst for digital initiatives. The next few years should show whether the new uses have found their audience and their interest according to the target communities, which are also heterogeneous depending on whether the organisations are institutional or more general public.
Digital Index: the sector's overall digital performance
Colombus Consulting presents below its digital index, which measures the digital performance of international organizations based on more than 30 indicators divided into three areas: Web, Digital Media, and Social.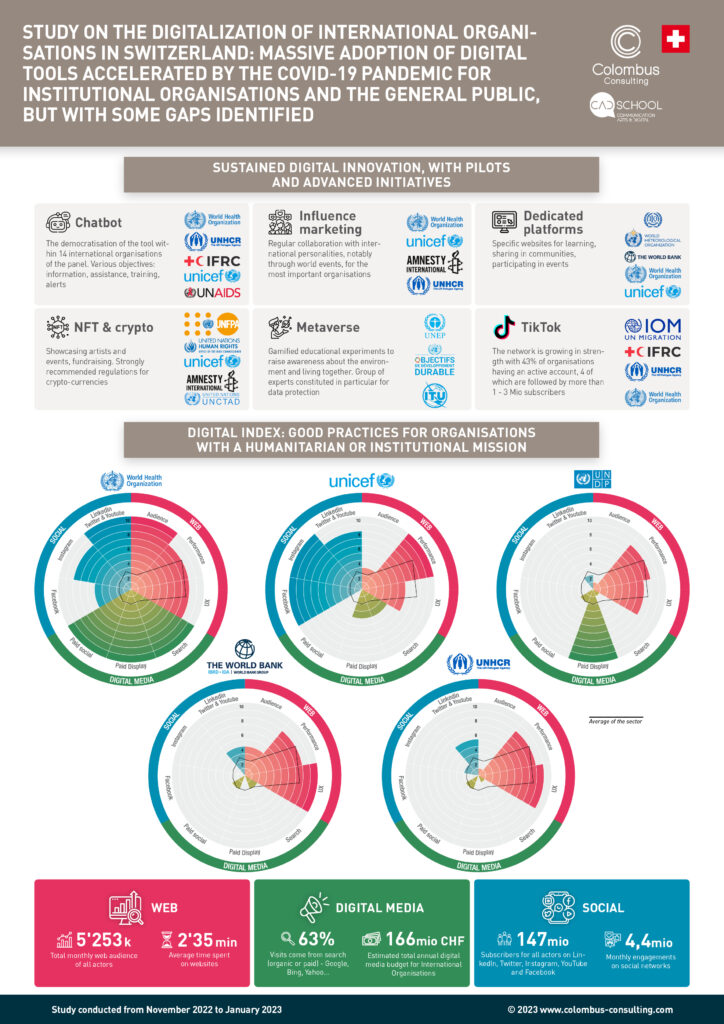 Methodology
This study was based on measurements carried out between November 2022 and January 2023 on a panel of 37 major players in the international organization sector in Switzerland.
Amnesty International
CERN – European Organization for Nuclear Research
FAO (Food and Agriculture Organization of the UN)
Gavi, the Vaccine Alliance
IAEA (International Atomic Energy Agency)
ICAO (International Civil Aviation Organization)
IFAD (International Fund for Agricultural Development)
IMF (International Monetary Fund)
IMO (International Maritime Organization)
International Committee of the Red Cross (ICRC)
International Federation of Red Cross and Red Crescent Societies (IFRC)
International Labour Organization, ILO
International Organization for Migration, IOM
International Organization for Standardization (ISO)
International Trade Centre (ITC)
International Union for Conservation of Nature (IUCN)
Inter-Parliamentary Union (IPU)
ITU (International Telecommunication Union)
Joint United Nations Programme on HIV/AIDS (UNAIDS)
Office of the United Nations High Commissioner for Human Rights (OHCHR)
The global fund
The United Nations Office at Geneva (UNOG)
UN Children's Fund (UNICEF)
UNIDO (UN Industrial Development Organization)
UNITAID
United Nations Conference on Trade and Development (UNCTAD)
United Nations Development Programme, UNDP
United Nations Economic Commission for Europe (UNECE)
United Nations Environment Programme, UNEP
United Nations High Commissioner for Refugees, UNHCR
UPU (Universal Postal Union)
WIPO (World Intellectual Property Organization)
WMO (World Meteorological Organization)
World bank group
World Health Organization , WHO
World Trade Organization, WTO
WTO (World Tourism Organization)
The digital index allows measuring the presence and the digital performance at 360° of the actors according to more than 30 indicators:
Website: audience, performance (bounce, visit time, and loading), customer experience (design, content, and functions)
Digital media: referencing, display, email, social networks, and partners
Social networks: Instagram, Linkedin, Facebook, Youtube, Twitter.
Solutions used:
We used different market collection tools and reworked all the data in the form of an index allowing a simple and visual benchmark of the sector. The chosen solutions are: Alexa, Similar Web, Semrush, Built with, Google
Fill in this form to download our study